Re-posted from: https://www.forbes.com/sites/jeroenkraaijenbrink/2022/03/02/this-is-how-retail-investors-can-speed-up-the-global-sustainability-bandwagon/?sh=3d39dc445fa1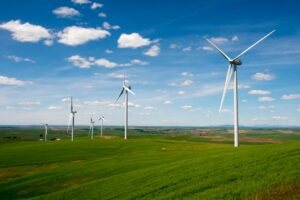 Rosalia Wind Farm near Oaksdale in the Palouse, Washington State, US
LIGHTROCKET VIA GETTY IMAGES
In the fight against climate change and achieving the UN's Sustainable Development Goals, purpose-driven investors are playing an increasingly important role. Legendary investor Carl Icahn, for example, has recently nominated two new board members at McDonald's to improve the way the company treats its animals—its pigs in particular—leaving McDonald's no real choice but to act. Similarly, over the past five years, activist shareholder group Follow This has effectively put climate change on the to-do list of Big Oil companies such as Shell, BP, and Equinor.
What these initiatives have in common is that they aim to redirect the agenda of large corporations from a focus on making money only, to a broader focus on sustainability, thereby limiting the negative effects these corporations have on our society and planet—their carbon footprint, energy consumption, toxic waste, and so on.
There's a second way in which investors have started to make a difference. Instead of focusing on the companies causing the problems, there is a growing group of investors focusing on the solutions, by investing in companies that make a positive impact on society and our planet.
One such company is Purpose ESG, a startup investment platform planning to list on a public exchange to offer retail investors the opportunity to invest in privately held sustainability-driven companies, that would otherwise be limited to accredited and large private equity investors. I spoke to chairman Steven Landry, former President of Chrysler Europe, CEO of DaimlerChrysler Canada, and EVP of Chrysler North America about how purpose-driven investors can make a difference in realizing the global sustainability agenda.
Like any investor, also purpose-driven investors aim for a solid future return on their investment. They are not philanthropists giving their money away for free. The key difference from traditional investors, though, is that they don't care about their financial return on investment only, but also—or even more—about their positive impact on society or our planet.
Often, there has been a point in their career where they realized that change is necessary and urgent. As Landry realized, "After my job at Chrysler, I worked five years for an energy company. It was then that I realized how important it is to close coal plants." Returning to the automotive sector afterwards, he realized there was a world to be won there. "The only contribution to sustainability there at that time were the solar panels on the roof." Once this awareness had sunk in, Landry could no longer sit still watching the events unfolding in front of him.
Landry, as well as other purpose-driven investors, are driven by an authentic desire to fix the world's problems and make a positive and lasting contribution, and make some money along the way.
Fixing The System With Bottleneck Investments
While any investment in companies making a positive contribution to sustainability can help, Purpose ESG has a tight policy on which companies to invest in. They emphasize science-based technology startups, and for a reason. "The shift toward a sustainable economy is a system change. For example, the full shift to electric vehicles requires not only electric cars and a reliable charging infrastructure, but also companies that can efficiently recycle batteries. Next to environmental reasons, there simply is not enough lithium available on the planet to make the transition happen otherwise. Therefore, it is these kinds of companies that we invest in."
What "these kinds of companies" entails in this case, is early-stage tech-based companies that can fix particular holes in the supply chain, or ecosystem needed to make the necessary transitions. Purpose ESG seeks for companies that can resolve a particular bottleneck in Clean Energy, Recycling & Decomposition, Efficiency, Air & Water, Transport, and Energy Management (CREATE).
Their selection process is strict. Out of a hundred initial applicants, fewer than five are being selected for the initial round of investment. "We do not merely select on expected financial returns. Of course the numbers should look promising, but what counts is that these companies can make a difference, and that our investment is required to help them achieve this."
Beyond Money: Tailored Support As Long as Needed
"Investment" here means more than money alone. As Landry elaborates: "We are actively involved. Of course, they are the entrepreneurs, but we help them with any means we can and as long as needed or wished for. This means we use our network, our experience, our advisors and so on to support the companies we invest in for as long as the relationship makes sense."
Purpose ESG's involvement does not only concern helping their investees' to grow their bottom lines. They are called Purpose ESG for a reason. ESG stands for Environmental, Social and Corporate Governance and reflects a set of criteria used more broadly to evaluate companies along these three components.
In the case of Purpose ESG, the E for Environmental is obvious, given that this is what their investments focus on: companies that can make a positive impact on the environment.
But they also work with their investees to address the S and G of ESG. "We look at things like gender diversity, how they treat their people, and whether there are any potential problems in their supply chain like child labor. Furthermore, we also evaluate their governance structures and board members. They should really be committed to doing the right thing."
As the case of Purpose ESG shows, investors, including retail investors, can make an important difference in the transition toward a more sustainable society—through their investments in the right "bottleneck" solutions, and by helping the companies they invest develop into truly sustainable companies along all three aspects of Environment, Social and Corporate Governance.